A late-season severe weather event resulted in several tornadoes across central and southwestern Illinois on December 1, 2018. A total of 29 tornadoes occurred, making it the largest December outbreak of tornadoes since 1957. The strongest, an EF-3, struck Taylorville in central Illinois. At least 22 injuries were reported in Taylorville but thankfully there were no fatalities.
Meteorological Summary
An excellent and more detailed meteorological summary of the event can be found from the National Weather Service Lincoln, IL page on the event. Surface weather analyses in the early to mid-afternoon showed a low over Kansas, associated with an upper level low. An occluded front extended from the surface low toward St. Louis, with a warm front advancing northward across Illinois. South of the warm front, a generally south to southeast wind had brought an unseasonably warm and moist airmass to the region.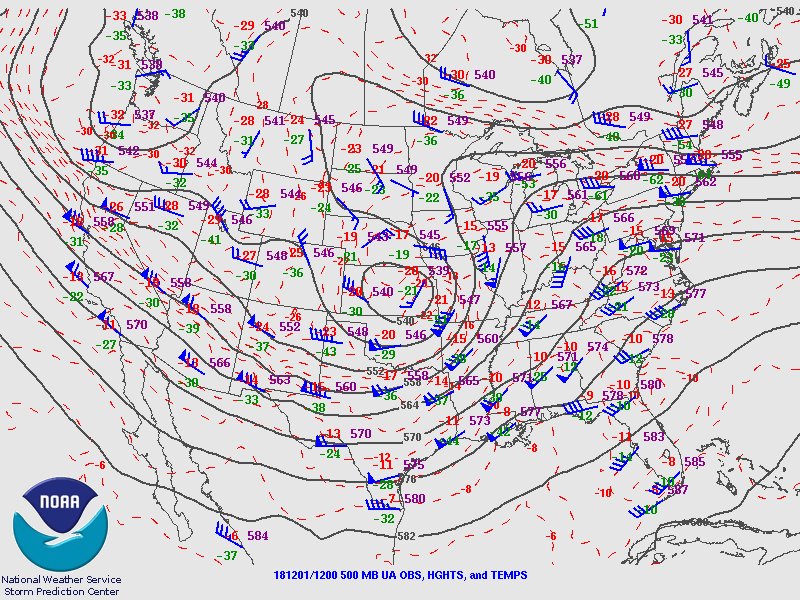 The Storm Prediction Center noted that strong to severe thunderstorms could develop by midday in the region to the south of the warm front and east of the cold/occluded front. Instability was expected to develop due to cooling of temperatures aloft, advection of the previously mentioned warm/moist airmass, and by solar heating. In addition, strong speed and directional shear was expected to be present. Given this, much of western and southwestern Illinois was included in a slight risk and 5% tornado probability area on the Day 1 Convective Outlook.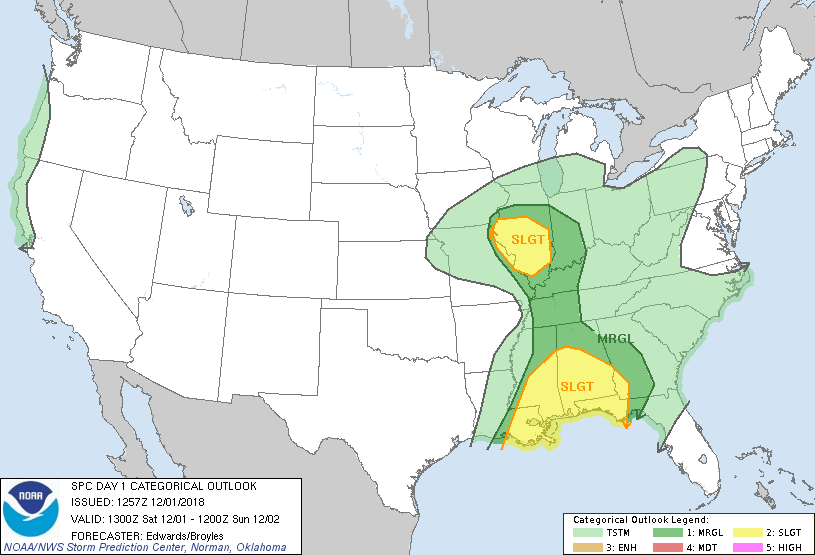 HRRR model runs had also picked up on the potential for thunderstorms, consistently showing thunderstorms erupting just to the east/northeast of St. Louis by 3:00-4:00 pm CST.
My feeling was that the best chance for severe weather and tornadoes would be further to the north in the vicinity of the warm front, but I didn't want to travel that far…and I couldn't shake the fact that the HRRR kept firing thunderstorms right in Madison County. By 1:00 pm, storms did begin to fire along the Interstate 72 corridor from Quincy, IL to Springfield, IL. By 2:15 pm, a tornado watch was issued encompassing most of west-central Illinois.
By 3:00 pm, several storms were tornado warned across the watch area, while a modest shower was just beginning to pop up, dropping a few minutes of light rain at my house.

After watching the storm on radar for a few more minutes, I decided it was worth it to chase it and have a look. I left around 3:20 pm and proceeded to I-55 northbound to intercept. As I headed north, it was apparent the storm was going to cross I-55 near Hamel, IL and I did not want to drive directly into it on the interstate. I decided to take the exit for IL-143, go east until I could get on IL-4 north, and catch up with the storm.

Turning from IL-143 east to IL-4 north, I started looking for a suitable place to pull off and observe the storm. I ended up turning left onto Fruit Rd., going around 3/4 of a mile west before turning north on Hoxey Dr. where I had a reasonable view of the storm. I observed the very picturesque storm to my north with some obvious rotation from that location for around 10 minutes. It may have produced a brief funnel cloud which lasted around a minute.

The storm was moving northeast, although not at a very rapid pace (around 30 mph). At the same time, the presentation on radar looked much better. Looking at it now, it seems there were two thunderstorm cells that remained in close proximity to each other through much of their lifecycle, before the southern storm became dominant over the course of 1.5 to 2 hours.

At around 3:50, I ventured back east to IL-4 to continue north. Almost immediately, the visual presentation of the storm improved, as evidenced by the photo below, shot along IL-4 approximately 1 mile south of IL-140 at 3:55 pm. A couple minutes later at 3:57 pm, a Severe Thunderstorm Warning was issued for the storm.
I continued north along IL-4 for another 6 miles, crossing I-55. At this point, it looked as if the storm would produce a tornado at any moment, if it wasn't already. I turned right onto Livingston Rd., approximately 2 miles north of I-55 and immediately pulled into a driveway leading to the Bond Madison Water Company water tower. Looking north-northeast, I began taking pictures of the tornado although the funnel was not fully condensed at that point. My first picture was snapped at 4:02 pm.
By 4:07 pm the tornado had lifted. At 4:08 pm, a tornado warning was issued for the storm, including southeastern Macoupin and west-central Montgomery County. After watching the tornado, I made the mistake of continuing north on IL-4, which brought me into the middle of Staunton, IL. It took what seemed like forever to get through Staunton and I should have turned back south on IL-4 and continued north on I-55 instead. After making it back to I-55, I exited at Mt. Olive and followed the storm on Old Route 66 from there to Litchfield, IL. I caught a brief glance of a tornado to the northeast but had no real opportunity to pull off or catch up with the storm. Arriving in Litchfield, I noted some small hail that had fallen a few minutes earlier. I decided to end the chase at this point and head back home via I-55 south and I-270 west, capturing one last shot of the storm illuminated by the setting sun. Overall, it was a very satisfying chase, especially considering it was successful and on December 1st to boot! The round trip was just over 80 miles.